Millers Falls No.2 Eggbeater Drill Type Study
Go back to Main Study Page
Type D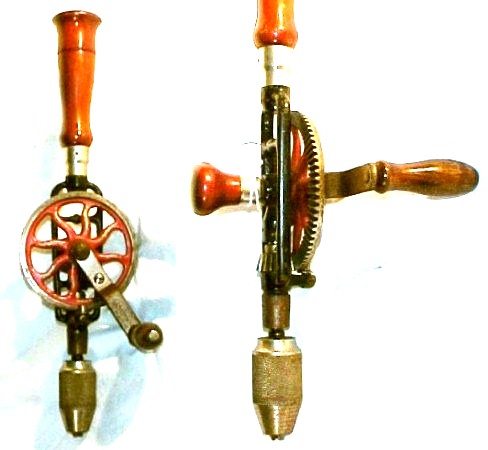 The Type D's handles are now into Millers Falls' Orange Period, with a lacquer combining the functions of both stain and protective coating.The logo on the crank has been changed to reflect Millers Falls' move to Greenfield, Massachusetts. A more subtle change is that the housing for the rear spindle bearing has been extended to make a connection with the housing of the gear-shaft's bearing, presumably to strengthen the frame. I have never found a broken No.2 frame, though. The crank handle has grown a bit as well; and the nose of the front spindle bearing housing is inexplicably tapered. The Type D is the only No.2 with this feature. The Type D is also the last No.2 with the "adjustable friction roll to equalize bearings." I call it the Little Rail Road Car Wheel (LRRCW). R.I.P. We hardly knew ye. Note well that the LRRCW lasted into the Orange Period.