Three Millers Falls geared braces
by George Langford, Sc.D.

Details of Millers Falls Geared Brace No.2:
Return to main Geared Braces page
Return to Millers Falls Braces page
a. Core arrangement b. Gear wheel attachment c. Catalog illustration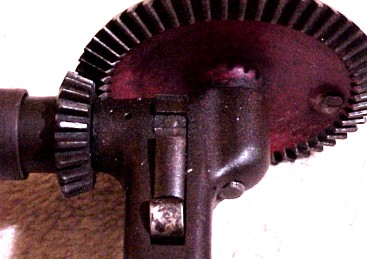 The core of Brace No.2 has the mounting for the gear shaft integral with the main housing of the ratchet mechanism.




Return to top of this page









The main gear wheel & crank of geared brace No.2 are secured with a knurled thumbnut.




Return to top of this page







This sketch is identical to the brace illustrated in the 1915 and 1925 Millers Falls catalogs and yet the text here is a verbatim copy of that which goes with the catalog illustration of Brace No.3 in this thread. The logical conclusion is that the much cruder Brace No.3 was developed earlier than the Model 182 brace (in the Millers Falls catalogs) shown here.
The illustration shown above was found in the Somers, Fitler & Todd Co. catalog of 1922. SFT was a Pittsburgh, PA distributor of machinery & suppplies.