The crank handle of this drill is about the same size and shape as that of the other No.4 drills, but it's attached differently.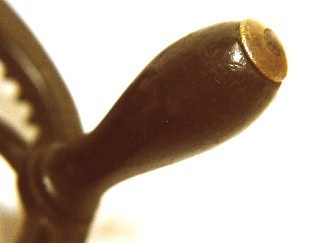 The attachment of the crank handle consists of a straight shaft pressed into the gear casting and then peened over a small, contoured, brass washer outboard of the handle. Later, the attachment was changed to a headed pin that was peened on the inside face of an extended crank.


Note also in the composite image above that the toothed side of the main gear has lost about half of the tooth that was intersected by the shaft of the crank handle. This error in design led to introduction of the headed crank pin.