Three Millers Falls geared braces
by George Langford, Sc.D.

Details of Millers Falls Geared Brace No.3:
Return to main Geared Braces page
Return to Millers Falls Braces page
a. Core arrangement b. Gear wheel attachment c. Catalog illustration of the same brace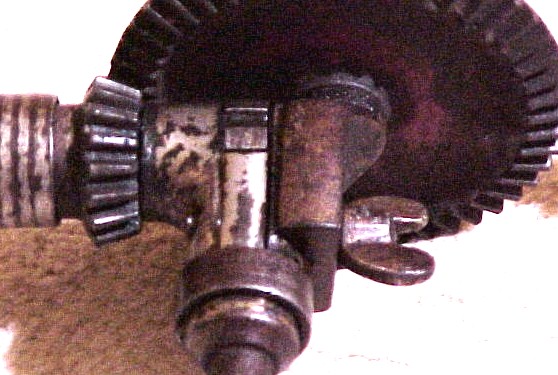 The core of Brace No.3 has the mounting for the gear shaft separate from the main housing of the ratchet mechanism, and this makes it so much less rigid that the main gear readily slips out of engagement with the pinion gear.
However, the screw has one redeeming innovative feature: Its tip is conical and serves to force either or both ratchet pawls out of engagement with the ratchet wheel of the brace, so the pawls cannot interfere with the operation of the gears, whatever was their initial condition.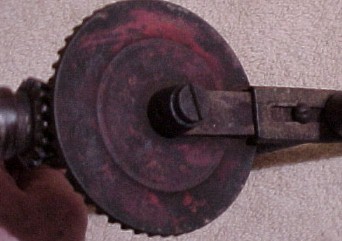 The main gear wheel & crank of geared brace No.3 are secured with a slotted screw that is not intended for ready removal.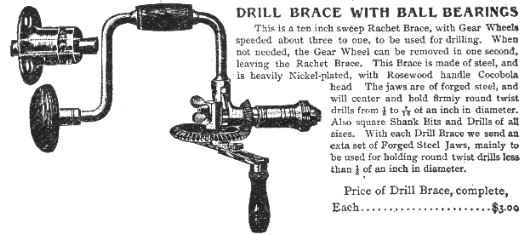 Catalog 21 of the Montgomery & Co. distributor illustrates the identical geared brace. It is billed as having a three to one speed ratio available with the gear wheels for use in drilling; and a spare set of chuck jaws (missing in the physical specimen) was provided for drilling with twist drills less than one-eighth inch in diameter. Note that the illustrated chuck shell is larger than the one presently on the physical specimen, suggesting that its identification with Millers Falls may not be accurate. Return to top of this page